ENGMED
ENGMED is a 10 week interdisciplinary summer research experience that brings students from various branches of engineering and computer science together with engineering faculty engaged in leading edge collaborative research with non-engineers in the health sciences to prepare the next generation of engineers to lead the continued transformation of society. ENGMED will recruit participants. While the program is open to students from any institution, we strongly encourage applicants from minority serving institutions.
This REU seeks to expose students to the excitement of engineering-based medical research and the increasing contributions that teams of engineers, clinicians, and medical researchers are making to advance medicine. Students will work within labs that focus on interdisciplinary research at the interface between engineering and medicine: i) cellular and molecular engineering; ii) biomaterials and tissue engineering; iii) robotics and therapeutic devices, and; iv) machine learning and bioinformatics. Participants will be trained to conduct team-based research through participation in collaborative projects between Rice and TMC partners.
To broaden participation in biomedical engineering research, students majoring in traditional engineering and computer science disciplines will be recruited from local (Houston-area) and regional (Southeast) HBCUs. These efforts will support the engagement of underrepresented students in research at an early stage of their studies. Leadership and professional development training will equip these students with skills that reach beyond the lens of biomedical engineering research.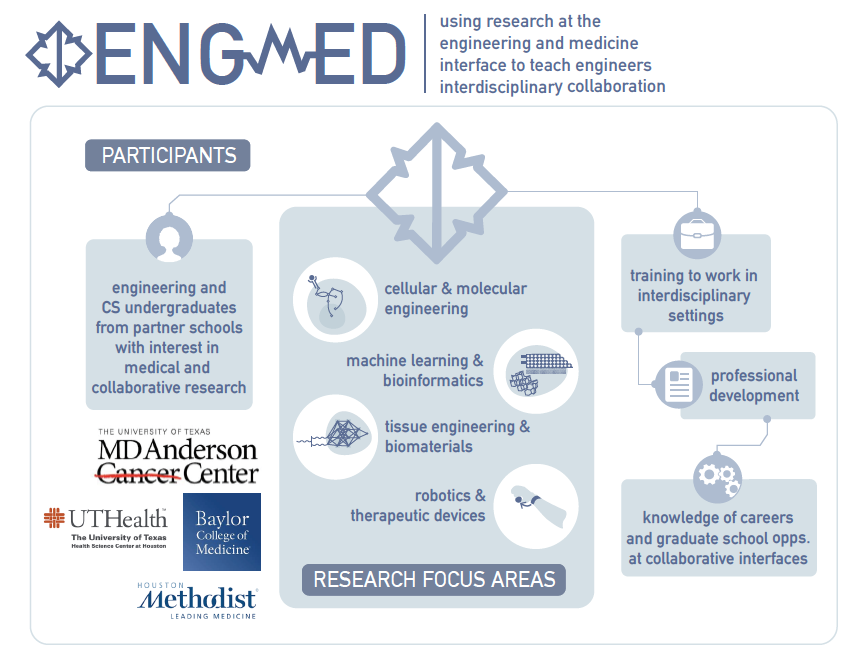 ---
Key Faculty